Cyborg Jeanne
(Temporary name)
New prototype of a game I'm working on
SHITRAIN : Soundtrack release, fin du prototype
Toutes les pires choses ont une fin, et je suis un peu soulagé d'abandonner le prototype de SHITRAIN. Belle aventure, un peu mystique, plutôt instructive. On fête ça avec une vidéo Longplay qui montre tout la majorité du contenu, mais surtout la Bande Originale sur Bandcamp.
Latest clitoris#pam
Etienne Dalo - Pédalo Disco. Tracks written by Russie Lenaud & Produced by Gonzagues.
Michel Christen ist tot. Das ist ein Tribut.
Russie had to make an EP alone while I was in Serbie.
Le Pouvoir . Reflexion autour du couple moderne.

MFB522 Fix : missing kicks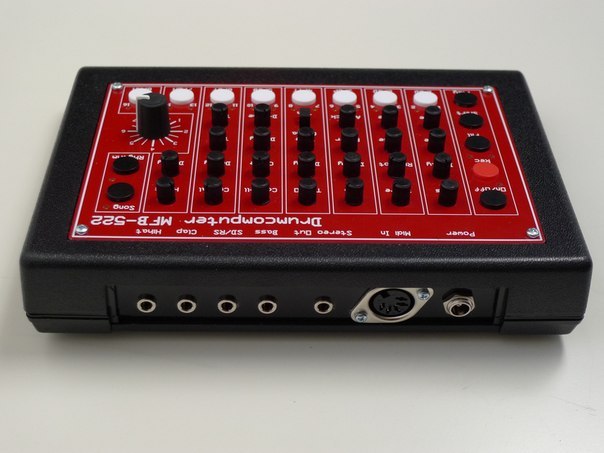 When Sync'ed with an external sequencer, the kick of my MFB was sometimes failing / missing ... No matter if the kick is internal or external sequenced.
FIX : I have to micro-decal the kicks from the grid (I suppose too much MIDI information at the exactly same step makes the kick to fail sometimes)
Used to have similar problems with MPC 1000 program change & stuff - micro decal (I speak about ticks) is the answer and makes no difference at hearing.
Lost Dogs Untertainement 001 is out
Record/Vinyl
200 ex / stamped / silkscreened rhodoid / handnumbered. it's beautiful, you can keep it in a safe and play the mp3.
low shipping fees
Includes unlimited streaming of KIWISUBZORUS / LE MATIN - Entertainers vol.1 via the free Bandcamp app, plus high-quality download in MP3, FLAC and more.
ships out within 4 days
Migration du Blog Scum
Le blog scum a été migré, il est donc plus opérationnel que jamais.
Pour info il existe toujours une pétition en ligne pour le faire fermer (1 seul signataire depuis 2008)
Bel Ocean #10 – Treason from the horse !
Yesterday, we discovered with anger and fear that our main character, Jean-Cheval, was fed up with the slow developpement pace of our company, he still didn't get paid (naturally ! we're just a small indie beginner studio and didn't sold anything yet ! We work part time beside our day-jobs !) and this piece of shit found a new job ! He's now working for the TV Show "BoJack Horseman" !
Of course, that's a big show on Netfli, featuring Aaron Paul the Breaking Bad superstar, so yeah of course, he's better paid ! Well, thanks mate, we wish you the best, don't get fooled to much with money and champagne ...
After one-year developpement, having our main star stolen is pretty much a hard thing to deal with. So we made an emergency conf call and we're now casting new actors for our game ... We think about a dog because we don't trust horses any more.
L'algerino "les bronzes font du biff" remix
J'ai fait cette cover idiote, sur ce morceau révoltant.
J'ai enchainé sur un EP dédié à François Lacire.